Autumn is my favorite season. I seriously hate cold weather, but I love living in Chicago because of the four distinct seasons, especially autumn. Of course growing up in Vermont, autumn is the most special time of year. Not only is the landscape breathtaking, the air clear and scented with burning leaves, the days milder but the food is amazing! It's harvest time which means lots of hearty dishes to eat and lots of preserving to be done.

IN THE PANTRY
Not only am I an avid foodie, but I'm also a craftie. Yes, I knit and bead and all sorts of Martha Stewart schtuff. I also LOVE craft shows. Last year, my mom and I went to one of the biggest annual craft shows in Vermont at the Champlain Valley Expo. Craft fairs hit big before Christmas and they are great places to pick up gifts for the holidays. We stopped by a booth full of homemade preserves, jellies and jams made in Rock Tavern, NY. Of course the best way to get people to buy your product is to sample! Typically, savory jams and jellies aren't my thang, but the wonderful woman who makes and sells
From My Father's Kitchen
had a plate of her horseradish jam spooned over a block of cream cheese served with Ritz crackers. WOAH! Seriously, this is the most delicious tasting jelly I've ever tasted. Just the right amount of horseradish, some shredded carrots for texture and the cream cheese. We bought 5 jars! Two for ourselves and three to give as gifts. Everyone we've gifted the jam to or has tried it absolutely raves about it. If I ever take up canning, this is the first recipe I will try and recreate! Check out her website for other yummy looking treat like Beer Jelly (great for basting chicken), Scotch Marmalade (on scones with clotted cream), and pumpkin butter (toss with pasta, walnuts and chopped sage).
IN THE CUPBOARD
So last week I posted about Riedel wine glasses. This week, it's all about Waterford and their new product lines designed by
Marc Jacobs
. Marc Jacobs is a wonderful clothing designer who in recent years has branched out into the fragrance and even has a new children's lined of clothing called Little Marc. Ironically, Mr. Jacobs just did a stint in rehab this summer, so he should know a thing or two about wine glasses (bad taste, just had to). Anyway, check out the beautiful collection he designed for Waterford of china, crystal and home accents. Each pattern, is named after a special person in his life and are made of crystal, fine china and hand blown glass. And you thought Riedel was pricey! His crystal Elizabeth champagne saucer goes for a whopping $95 - a piece! Do the math. But oh my are they gorgeous!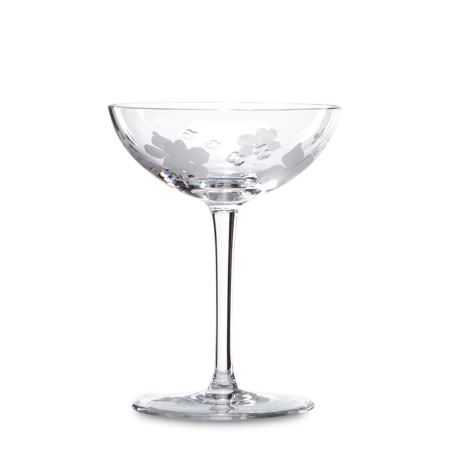 IN THE KITCHEN
I love autumn - but I love Christmas more! I've already started to make a list of all the goodies I'll be making for gifts this year. One that I have been making the past couple of years are candied nuts. The great thing about candied nuts are you just need one recipe and you can make all sorts of great substitutions - exchange walnuts for almonds, use cardamon instead of cinnamon, use maple syrup instead of honey, use curry powder instead of cumin. The possibilities are endless so experiment! Also, not only do they make a great snack or appetizer, you can throw them in a salad, roll them into soft cheese for a quick spread or crush up and put in oatmeal. The kicker - nuts are really good for you!
I prefer almonds over most any other raw nuts. They are good sweet or savory and are easy to pick up in bulk. Make sure to get raw almonds, not salted or roasted. Did you know?:
California produces 100% of the US supply and 80% of the worlds supply of almonds.
Almond trees are closely related to peach trees. Ever noticed how a peach pit looks almost exactly like an un-shelled almond?
Almonds are the most nutrient rich tree nut - it even lowers "bad" cholesterol and is a great source of protein, vitamin E and antioxidants.
Almonds were one of the first known cultivated foods and are even mentioned in the Bible.
CINNAMON GLAZED ALMONDS
1/3 cup butter
2 egg whites, at room temperature
Pinch of salt
1 cup sugar
3 cups whole natural almonds
4 tsp. cinnamon
Directions
Preheat oven to 325 degrees. Place butter on 15 ½ x 10 ½ -inch jellyroll pan; place in oven to melt butter (about 7 minutes). Meanwhile, beat egg whites with salt until frothy; gradually add sugar, beating into stiff peaks. Gently fold in almonds and cinnamon. Pour almond mixture onto jellyroll pan; toss with butter. Bake about 40 minutes, tossing every 10 minutes, until almonds are crisp. Serve warm or at room temperature. Store cooled almonds in airtight container up to 2 weeks.
TIP: If you are making a large batch, buy refrigerated egg whites. About 2 tablespoons from a carton of egg whites, equals what would come from one egg. This will save you time AND 50% of the cost of eggs!

IN THE RESTAURANT


Lack of extra cash can greatly limit eating out at decent restaurants. I truly believe it's a god given talent to be able to eat out and have a decent meal for under $15 a person these days. Not pizza or fast food, but a sit down meal. There's a wonderful website called
Metromix
in Chicago, that posts daily food specials throughout the city along with drink specials and links to entertainment near your dining spot. Typically, Monday's and Tuesday's are the best nights to get really great deals at restaurants, because business is slow. Most restaurants will offer 3 to 5 course prix fixe meals or 1/2 price bottles of wine. Pubs and restau-bars tend to offer burger, appetizer or all-you-can-eat specials.
One of my favorites deals in the city at Duke of Perth pub. Every Monday, they have 2 for 1 entrees, including their incredible fish and chips! Now, despite what Anthony Bourdain says, I will eat fried fish on Mondays. We live in a day and age where restaurants received orders on Saturdays. Of course, it depends on the quality or the restaurant for I surely wouldn't eat sushi at an all you can eat sushi buffet on a Sunday or Monday (but what idiot would?).
Having been to England, Ireland and Scotland and having eaten fish and chips in all three countries, I know what I like and don't like about fish and chips. Duke of Perth has been the ONLY pub in America I've ever been to that has prepared fish and chips properly and deliciously. Duke of Perth uses delicate pieces of cod dipped in a Tennents lager beer batter. The fish comes out flaky, not greasy and perfectly steamed. Plates come with three large pieces of fish, peas (traditional side in Scotland) and hand cut chips, also not greasy and wonderful slathered with malt vinegar.
Duke of Perth also serves a wonderful Shephards Pie and meatloaf made with lamb, beef, veal, pork and garlic sausage and has wonderful side salad served with their house made malt vinegar dressing. And of course being a Scottish pub, they have an extensive collection of malts - over fifty 10 to 36 year bottles of whisky and scotch! On a recent visit, Jay chose a flight of three malts for $16. A great deal and chance to try some rare vintages. Their beer selection is also great, serving draughts typically difficult to find outside of the British Isles like Belhaven, Fullers and Tennents - and of course Scottish favorite McEwan's!
Check out Duke of Perth's Myspace page!
http://myspace.com/dukeofperth
One last blurb for the week - I loath Halloween. I absolutely abhor Halloween. The one cool thing about Halloween is carving pumpkins. Jay and I bought some oddly shaped ones which we will hopefully carve tonight for our front porch. I hope to get some trick-or-treaters at our house!